The Duties and Responsibilities of a Caregiver
What if you could provide general health care, transportation, and meal prep for your aging loved one by utilizing the skills of one …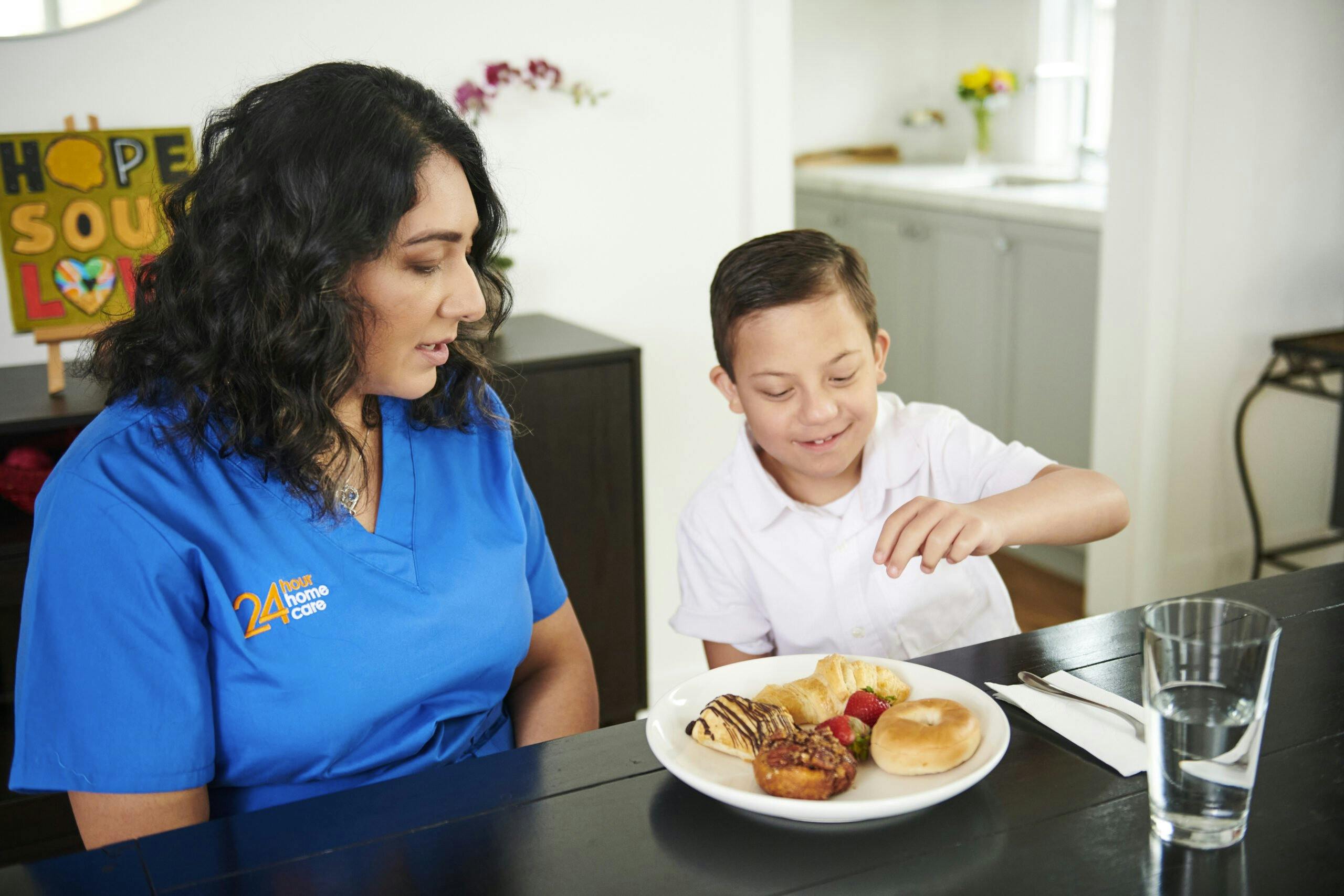 What if you could provide general health care, transportation, and meal prep for your aging loved one by utilizing the skills of one qualified caregiver to provide a quality caregiving experience instead of hiring an entire staff?
Oftentimes, home care is thought of as a way to care for elderly or infirm patients when in reality, it can be so much more. The responsibilities and duties of caregivers span far beyond just medical care.
Caregivers are equipped to handle a wide variety of needs, providing stability and continuity of care. Whether you're looking for an emotional support companion or respite services, you'll find exactly what you need when you enlist the help of a caregiver from 24 Hour Home Care.
How Do Home Care workers help seniors 1101307687 Choosing-the-Best-2
Caregiver Duties & Responsibilities List
1) Personal Care
It's not uncommon for elderly patients to struggle with day-to-day tasks. As the signs of aging progress, simple things like getting dressed, bathing, or brushing teeth can become tiresome. In some cases, they may even be painful.
Because of this, many of our senior loved ones neglect their hygiene simply because it's challenging to keep up with their daily routine. One caregiver's responsibility is to assist with as much or as little as needed for the patient to keep up with their daily personal hygiene routine.
Grooming, using the toilet, or exercising is much easier with the help of a qualified caregiver. A caregiver's role is to provide assistance while still allowing patients to remain as independent as possible. By striking a careful balance, the relationship between a caregiver and patient becomes stronger.
2) Meal Planning and Food Preparation
Dietary restrictions, preferences, and needs make it difficult for many people to receive their daily nutrients. It can be even harder for those who are sick or aging to create nutritious and delicious meals. Allow a caregiver to help.
Caregivers are trained to handle any interactions that specific foods may have with medications while also avoiding allergies. On top of interactions, creating highly nutritious meal plans is just one of many caregiver responsibilities.
They will enlist their patients' help to ensure that each meal is custom-tailored to fit their dietary needs and personal tastes while remaining delicious and nutritious. On top of planning a menu, most caregivers will do the necessary grocery shopping and meal food preparations to make mealtime easier than ever.
3) Transportation
Transportation is a huge concern for the elderly. Most seniors are outliving their ability to safely drive by 7 to 10 years but still take to the road frequently, putting themselves and others at risk.
Instead of relying on themselves to get to and from appointments, pharmacies, or stores, many older adults choose to enlist the help of a caregiver. 
One possible caregiver duty is to provide transportation to and from activities as well as be there to assist patients in and out of wheelchairs as needed. This relieves the stress and anxiety that may accompany older adults and their loved ones when coordinating transportation.
4) Companionship
Loneliness and depression are common issues that lead to a decreased quality of life among seniors. While family visits and social activities may occur from time to time, many seniors feel alone in between engagements.
A caregiver is more than just someone to assist with non-medical daily tasks. They provide constant and reliable companionship. Another caregiver's responsibility is to supervise patients while also giving them someone to talk to on a daily basis.
Care providers may even have ideas as to how to take up new hobbies or cultivate new friendships. This sort of emotional support system allows each senior to continue enjoying the social aspects of their lives. It is a source of stability needed to thrive throughout their golden years.
5) Medication Management
On average, seniors are consuming five medications per day. That number could grow or decrease, depending on individual needs and diagnoses.
While the number of medications being taken is high, it's estimated that 75 percent of seniors aren't taking their pills properly. Some may be taking medicines that interact with each other, while others may not possess the mental capacity to remember whether or not they've taken specific pills.
With such a high-risk factor, it's crucial to monitor medications and consumption among the elderly carefully. A qualified caregiver works closely with medical professionals to ensure that their patients are taking each medication properly. By administering pills and properly educating each of their patients, they help reduce the risk of serious issues that accompany the improper use of medications.
6) General Health Care
While an in-home care provider may not be able to perform checkups or in-depth health procedures, they are qualified for health monitoring and basic care. They can follow a care plan and monitor the patient to ensure that no changes occur.
If an issue does arise, the caregiver's duty is to consult with medical professionals to decide on a course of action.
7) Memory Care
In the beginning stages of Alzheimer's and dementia, patients may struggle. They may become more forgetful and agitated due to the increased confusion. Family members may feel guilty as they're unable to provide around-the-clock care.
Luckily, having a designated caretaker in place can help. Not only does it provide stability and companionship, but it allows the family to feel at ease knowing that their loved one is constantly supervised and cared for.
8) Family Support
It's difficult for a family member to come to terms with the signs of aging that their elders may display. Many don't know how to help or how to cope with the situation. A caregiver is available for both patient and family support. They provide education, ideas, and methods to make family life easier. With the help of an in-home caregiver, family members can remain independent while still providing the care that their loved ones need.
The Skills of a Caregiver
Searching for the right caregiver is not an easy task because you need the right combination of knowledge, ability, and empathy to fulfill the role. That's why so many people end up taking care of their family members' needs themselves.
These "informal caregivers" are often juggling their own lives, along with acting as a caregiver for an older adult in their home. Unfortunately, this is not a tenable situation as family members may have all the caregiver skills their loved ones need, but they end up burning out. In the long run, caring for older or disabled family members is a job for professional caregivers who have the qualifications, knowledge, and communication skills to excel at in-home care.
In this piece, you'll learn what skills and qualifications caregivers need to ensure the caregiving relationship is as positive and supportive as you intend.
What Are the Essential Skills of a Caregiver?
If you have a loved one who lives alone and requires extra care throughout the day, availability is something you should consider right away. Depending on their level of care, you might need to hire a caregiver who is available 24/7. 
Right now, about 26% of all care patients live alone—which is a lot of time alone for aging seniors and individuals with disabilities. Ensuring that a caregiver can respond to health concerns and other ongoing situations at any time is part of receiving excellent patient care
When a caregiver chooses personal support and care assistance as their life career, they have plenty of day-to-day responsibilities.  The average caregiver spends 19 days each month performing daily personal service tasks such as shopping, cooking, housekeeping, dressing, bathing, and much more.
Additionally, caregivers may also spend several hours researching information on their patient's medical conditions, offering companionship, dealing with medication reminders, and caring for their general well-being.
Besides this, the best caregivers are individuals who demonstrate very specific behaviors and social skills. These include:
Empathy, or the willingness to consider the feelings of their clients and treat people with respect
Job or career-based knowledge 
Problem-solving skills
An ability to think on their feet and adapt to a patient's needs, especially if they have specific conditions (such as cardiovascular issues that could lead to a heart attack or disorders like Alzheimer's disease)
Given all these responsibilities, it's safe to say that caregivers invest a lot of work into their patients' lives. These important skills and qualities are part of what separates an exceptional and competent caregiver for your loved one.
Caregivers Skill #1: An Attitude of Compassion
Compassion is one of the most critical skills of a caregiver, especially since they may be aiding someone suffering from physical or mental disabilities. It's important for caregivers to take the time to sympathize with their patients' condition by understanding their struggle.
Even something as simple as maintaining eye contact, speaking in a level and direct way to their patients, and walking them through an unfamiliar situation can promote positive changes in the outlook and experience of your family member. In demonstrating compassion and empathy for their clients' needs, caregivers can help get them through the daily physical, mental, and emotional anguishes of life. 
Caregivers Skill #2: Flexibility
Patients with disabilities don't operate on a 9-to-5 schedule like the regular workweek, so it's important that caregivers are completely aware that every day with their patients may be different depending on pain levels and their emotional state. 
Caregivers need to be prepared to be flexible with how their patients are feeling, as well as be available outside of typical work hours for extra care or in case of emergencies. 
Caregivers Skill #3: Commitment to Long-Term Quality Care
Caregiver-patient relationships develop based on time and trust, so establishing a concrete one won't happen overnight. Caregivers who can commit to their patients' care on a long-term basis have a better chance of establishing a positive relationship that then deepens reliability and trust. 
Too much turnover might leave the patient feeling wary of meeting new caregivers, which can strain communication in new relationships. 
Caregivers Skill #4: Effective Communication Skills
Strong communication skills go hand-in-hand with being a caregiver. Many clients require assistance with medication reminders, companionship, daily living activities and depend on day-to-day conversations to understand their care plan. By offering frequent, ongoing communication to their clients, caregivers can provide better care and adjust their approach based on the feedback they receive. If a caregiver cannot communicate effectively, clients may feel neglected and unsure of where the relationship stands.
Caregivers Skill #5: Patience and Problem-Solving
The truth is that not everybody is up to the task of being a full-time caregiver because it requires much patience and empathy for those with specific personal needs.
It's not easy to take care of adults with disabilities, so it's essential that all caregivers demonstrate an attitude of patience, knowing they can always rely on their problem-solving skills to find a way through any situation.
When faced with changes or challenges in the course of the day, caregivers need to be able to recenter themselves. On a personal level, they have to be able to remember that their patients are people who are all capable of a wide range of emotions and mobility issues. Good caregivers will take time to understand and work with their patients through every hurdle and obstacle.  
Conclusion
Caregivers are oftentimes the unsung heroes in many peoples' lives, making an impact with their significant professional knowledge and person-to-person acts of service. 
However, to find such a caregiver, you have to look at credentials, skills, and qualifications. Ensuring that your caregiver can demonstrate compassion, flexibility, commitment, communication, and patience is an excellent start to a dependable relationship for years to come. 
If you're in search of a 24/7 non-medical home care specialist, then it's time to meet the passionate caregivers at 24 Hour Home Care. 
24 Hour Home Care aims to be an industry leader in non-medical home care while giving back to their communities and partnering with national businesses to make caretaking more efficient. With 24 offices across 3 states, several awards, and glowing reviews by families just like yours, there's no doubt that you'll find the right caregiver for your family in no time.
Your caregiver should meet every one of your needs. Whether you need someone who possesses each one of these skills or who just provides basic care, allow 24 Hour Home Care to help. By carefully matching each of our caregivers with patients, you can rest assured that you'll get the help you need.