The Differences Between CNA and Caregiver Roles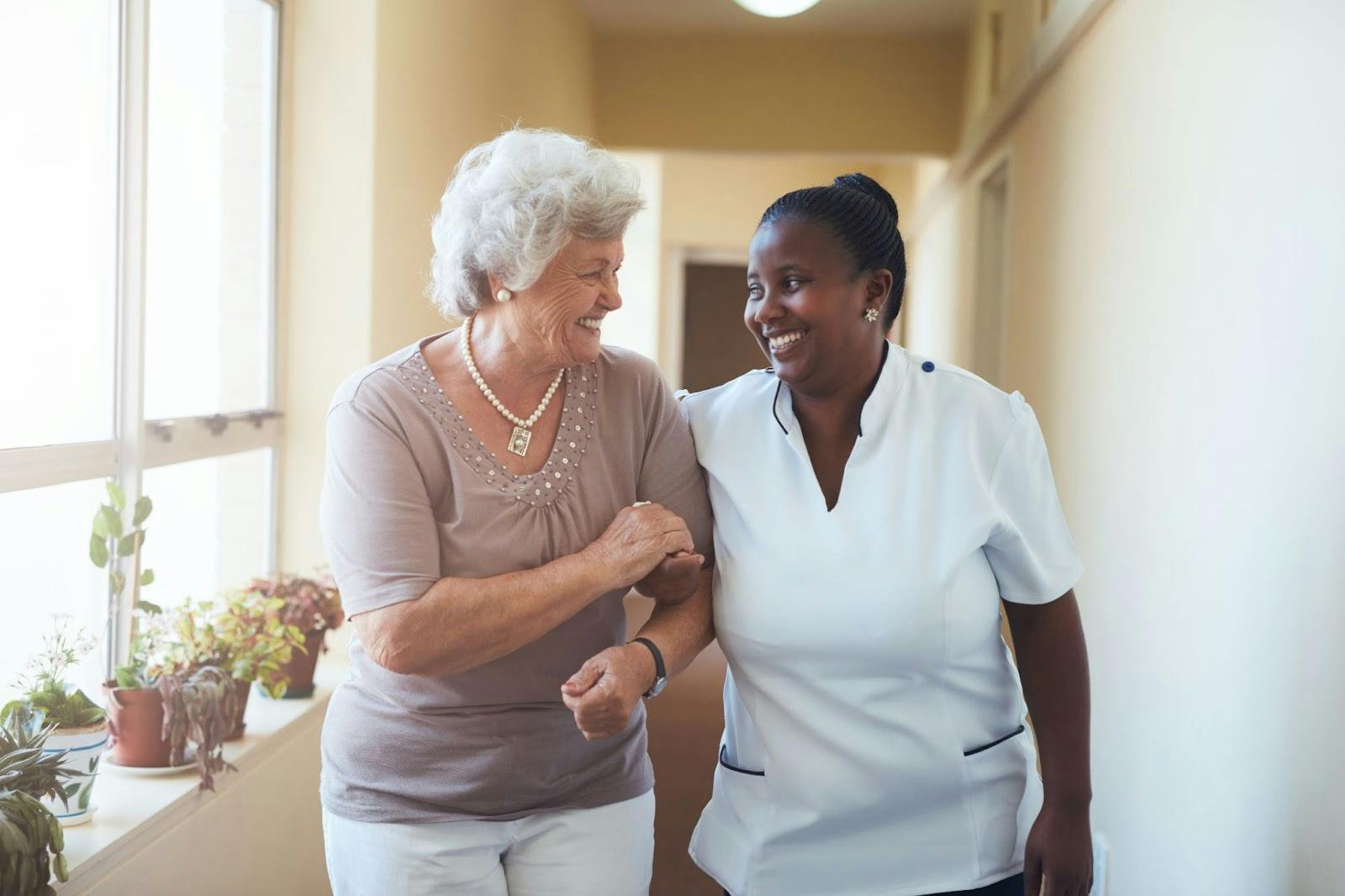 If you have a senior who needs in-home care, should you work with a caregiver or a certified nursing assistant (CNA)? When researching options, you need to make sure you choose a care provider with the right qualifications, but you also need to find someone who offers the type of services you're looking for. 
Does your family member require medical treatment and attention? Or will they benefit from services that help them age in place and retain their independence? How do you know the caregiver you hire is qualified? 
These are some of the questions you'll need to answer when looking for someone to help care for your loved one. Ultimately, you need to know the difference between a CNA and a caregiver and understand the specific services each provides. 
This post breaks down what differentiates caregivers from CNAs. In the end, you'll know which type of assistance is right for your family. 
Job Duties: Caregiver vs. CNA
Caregiver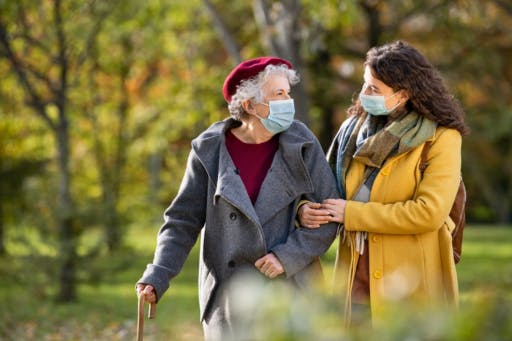 Caregivers support the well-being and health of their patients through non-medical tasks. They might provide support to patients with dementia, Alzheimer's, and other illnesses, but they don't provide any medical services.
Their tasks include but are not limited to:
Medication reminders – Caregivers can keep track of their patient's medication list and ensure they take their prescription medications at the right time.
Personal care –  They can assist with basic needs commonly referred to as "activities of daily living" (ADLs) that patients can no longer perform by themselves, including toileting, bathing, and grooming.
Offer companionship – Caregivers also tend to form a strong bond with patients. They spend more time with their patients than home health aides do, and they focus on providing companionship to prevent their patients from feeling lonely or falling into depression. 
CNA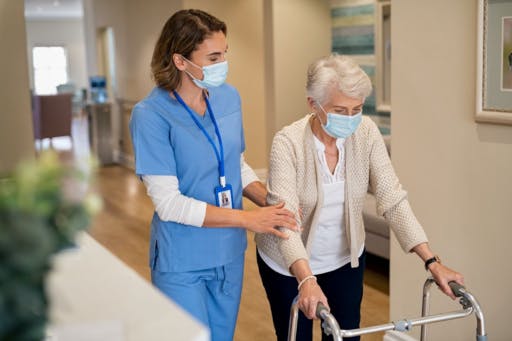 Certified nursing assistants perform medical tasks, and they are licensed to assist with primary medical care. CNAs collaborate with doctors to provide medical assistance to patients.
However, as with other home care professionals that provide basic medical care, they do not offer companionship or help around the house. 
Tasks include:
Basic needs – A certified nursing assistant can help with bathing, dressing, and feeding their patients.
Medical equipment and procedure assistance – CNAs might prepare medical equipment for an exam, gather medical supplies, and take care of wounds.  
Patient vital signs – They can also take and record vital signs, including temperature, heart rate, and blood pressure.
The main difference between a CNA and a caregiver is that the former can provide medical services but offers limited assistance for their patients' basic needs. The latter can offer more support for daily activities (ADLs), but they don't have the training required to perform medical tasks.
Education: Caregiver vs. CNA
Caregiver
There are no required degrees to become a caregiver—all they need is a high school diploma or GED equivalent, and in some states, they have to go through a certification course before starting job duties.
There is also specialized training for specific disabilities and illnesses related to age that can help caregivers learn new skills and provide a better quality service to patients. These include fall prevention, nutrition guidance, and Alzheimer's care. 
Caregivers should also possess compassion and communication skills to do their jobs well. Often, caregivers learn compassion from patients and vice versa. They may develop communication skills through past work experience, caregiver certification courses, or through training offered by their home care agency. 
CNA
Certified nursing assistants have to go through more training than caregivers.
Those who aspire to join a CNA program must have a high school diploma or a GED equivalent. From there, they must complete a minimum of 75 hours' worth of training and at least 16 hours of clinical training for 4-12 weeks.
The course training will help them care for the elderly and infants. CNAs also learn proper body mechanics so they can protect themselves from injuries on the job.
Upon completing a nursing program, participants must pass a CNA competency exam or the National Nurse Aid Assessment Program (NNAAP) (depending on the exam the state gives) to earn their certification. 
The exam takes three hours to complete. It contains around 70 multiple-choice questions and a skills evaluation portion requiring people to display five skills they learned from the program.
Work Options for Caregivers and Certified Nursing Assistants
Caregiver
Many caregivers work for an agency that will assign them to home care jobs.
But before a home care agency hires someone, they'll look for a certain level of background education or experience, and they may expect their caregivers to take a certification course.
To become certified, caregivers can enroll at a local college, find a training program through the Red Cross or other local resources, or join an online program like Basic Trainer for Caregivers. 
Home health and personal care aides—a group that includes senior caregivers—held approximately 3.5 million jobs in 2020. Nearly 45 percent of these caregivers provided care in people's homes. 

CNA
Most nursing assistants work in skilled medical facilities (37%) and hospitals (30%).

CNAs working in nursing homes assist patients with their medical needs and basic care. They also help them engage in social activities.
In hospitals, nursing assistants must take care of patients by monitoring their vital signs, helping them reposition in bed, and moving them from a bed to a wheelchair and back.
It's also common for a certified nursing assistant to work in assisted living facilities such as residential care centers and retirement centers. Aside from performing basic medical tasks, the nurse might help with some housekeeping, such as changing and cleaning bed linens.
Career Outlook: Caregiver vs. CNA
Caregiver
The caregiving field is expected to grow by 33% over the next decade, with just under 600,000 average job openings yearly. The growth is due to the increase in demand for home care services as the baby boomer generation ages.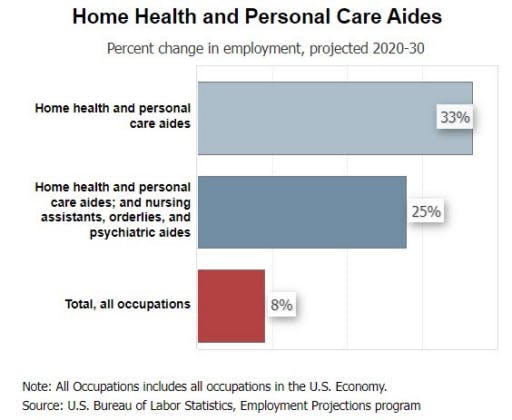 There's also a shift in perception around caregiving.
With so many Americans caring for their family members themselves instead of sending them to a nursing facility, more people realize the value of respite care and home care workers in general. 
And as stories of caregivers making a difference surface, people are waking up to the fact that domestic work is more than a job but a labor of love, and one that can be transformational for some families.
CNA
The predicted growth rate for nursing assistants from 2020 to 2030 is 8%.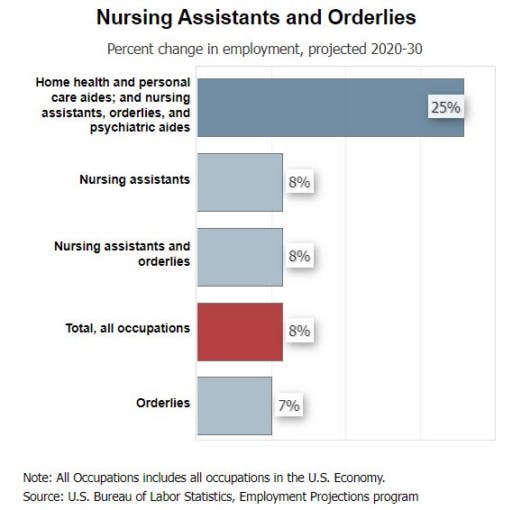 While not as significant as the expected job outlook for caregivers, the field of CNAs is growing faster than others in the nursing niche. This is because of the high demand for healthcare with the growing elderly population. Nursing homes, assisted living facilities, and hospitals will continue to rely on certified nursing assistants for care.
The U.S. Centers for Medicare & Medicaid Services (CMS) announced around $165 million in supplemental financing for programs that allow older adults to transition from a nursing institution back into the home at their wishes.
This could also impact demand for CNAs as more families seek services that enable their senior loved ones to live independently at home while still enjoying a high quality of life. 
Conclusion
There is a huge difference between CNAs and caregivers. CNAs provide nursing care to patients in medical facilities while caregivers perform non-medical tasks to aid patients in their homes.
If you are looking for a helping hand to support your senior family member, 24 Hour Home Care's friendly and professional staff can help you create a caregiving plan that'll suit your loved one.
We offer personalized caregiving services and matching so you can count on an experienced caregiver who is a natural fit for your loved one. And with flexible home care services available around the clock, you can access the help your family member needs so they can live their best life. 
Get in touch with 24 Hour Home Care today to find out more.