5 Mistakes to Avoid While Hiring a Caregiver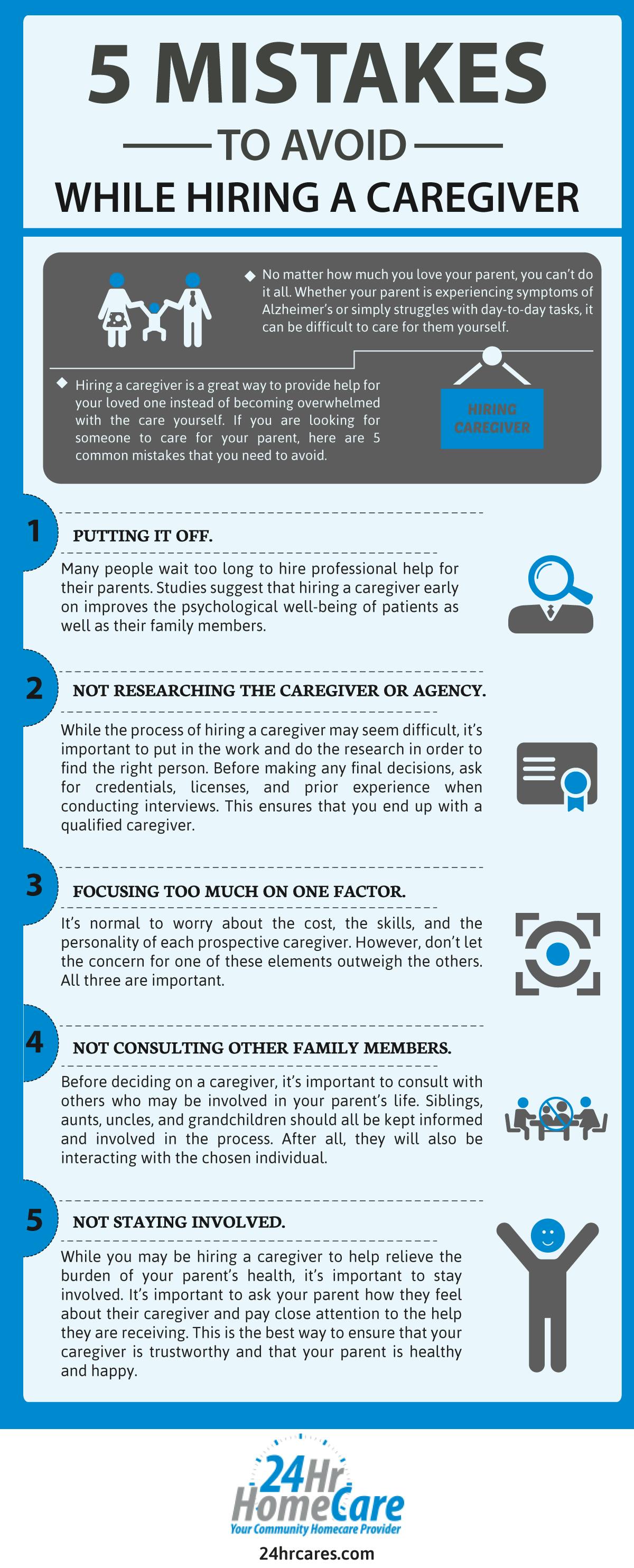 No matter how much you love your parent, you can't do it all. Whether your parent is experiencing symptoms of Alzheimer's or simply struggles with day-to-day tasks, it can be difficult to care for them yourself. Hiring a caregiver is a great way to provide help for your loved one instead of becoming overwhelmed with the care yourself. If you are looking for someone to care for your parent, here are 5 common mistakes that you need to avoid.
The biggest mistake made when hiring a caregiver is putting it off. Many people wait too long to hire professional help for their parents. Studies suggest that hiring a caregiver early on improves the psychological well-being of patients as well as their family members.
Many people also fail to research the caregiver or agency. While the process of hiring a caregiver may seem difficult, it's important to put in the work and do the research in order to find the right person. Before making any final decisions, ask for credentials, licenses, and prior experience when conducting interviews. This ensures that you end up with a qualified caregiver.
Also, don't be caught focusing too much on one factor. It's normal to worry about the cost, the skills, and the personality of each prospective caregiver. However, don't let the concern for one of these elements outweigh the others. All three are important.
Many people also fail to consult other family members. Before deciding on a caregiver, it's important to consult with others who may be involved in your parent's life. Siblings, aunts, uncles, and grandchildren should all be kept informed and involved in the process. After all, they will also be interacting with the chosen individual.
Another big mistake is not staying involved. While you may be hiring a caregiver to help relieve the burden of your parent's health, it's important to stay involved. It's important to ask your parent how they feel about their caregiver and pay close attention to the help they are receiving. This is the best way to ensure that your caregiver is trustworthy and that your parent is healthy and happy.
24 Hour Home Care understands just how important choosing the right caregiver is. For this reason, we have dedicated ourselves to placing the right caregivers and nurses with the right patients. Whether you need memory care services or basic help day-to-day, our experienced staff can find the right caregiver for you.
Discover how 24 Hour Home Care can help you by visiting www.24hrcares.com.