How Cardiac Home Care Helps Seniors with Cardiovascular Disease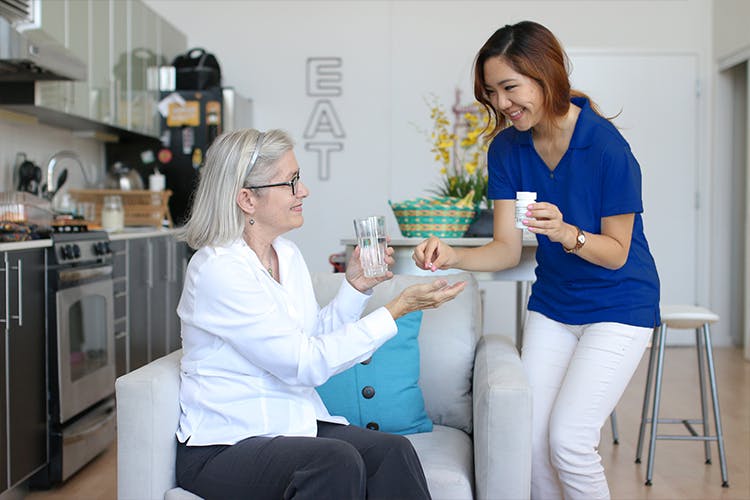 Cardiovascular disease is the leading cause of death for senior citizens in the US. This class of diseases that affect the heart and blood vessels can be especially deadly without proper care. Thankfully, cardiac care systems provide nationwide preventative, diagnostic, and treatment measures that improve quality of life for seniors. According to a study published in the Journal of the American College of Cardiology, "It is indisputable that the attributable risk of CV disease is highest in the senior population. Therefore, CV caregivers have the greatest potential to favorably impact mortality and morbidity by implementing preventive and interventional therapies in their oldest patients."
In other words, cardiovascular care can save senior lives, extend their life span, and intervene to prevent or treat what would otherwise be deadly CV diseases, including heart attacks and strokes.
Cardiovascular disease care involves several approaches, including physician oversight. However, other forms of assistance, such as senior home care, are also important for the senior population. If you have a senior loved one, it's important to consider that a diverse approach to cardiac care can improve quality of life for American seniors.
What is Cardiac Care?
Cardiac care refers to physician-led care of a patient's cardiovascular health. Cardiologists will work together to evaluate, diagnose, and treat the many conditions that affect the cardiovascular system. They'll also offer preventative recommendations, such as changes to diet and lifestyle, in order to stave off early signs of cardiovascular disease like high cholesterol.
Cardiac care includes many diagnostic services, including heart ultrasounds, heartbeat tracking devices, and outpatient procedures, such as cardiac catheters. Physicians can also offer medications, therapies, surgeries, and other treatment options in order to assist those who suffer from cardiovascular disease. There are many approaches to cardiac care, each of which depends on a person's individual needs. For example, a person at risk for a heart attack may be prescribed beta blockers, while a person with irregular heart rhythm may receive a pacemaker, an implanted device that helps regulate heartbeat.
Goals
The overall goal of cardiac care is to reduce rates of mortality from cardiovascular disease and to assist those living with chronic cardiovascular disease to manage their symptoms. With proper care, even seniors living with serious cardiovascular diseases, such as valve disorders or congestive heart failure, can live a relatively normal life.
However, proper care for seniors with cardiovascular disease extends beyond physician care in settings like a cardiologist's clinic or a hospital. Given the high mortality rates of cardiovascular disease and the potential severity of symptoms—often including dizziness, fatigue, and mobility struggles—seniors should have care around the clock. However, it's important to balance attentive care with freedom to live as independently as possible. This is what in-home care offers seniors living with cardiovascular disease.
What is Home Care?
Home care is care for an individual in their own home. In-home caregivers are professionals trained in the practice of providing for seniors' many needs while they live independently. In fact, home care can empower seniors to continue living independently rather than moving into an assisted living facility, a loved one's home, or other more constraining options.
Home caregivers help seniors fulfill the needs that they may not be able to provide for themselves or that their family members and friends may not be able to provide due to availability or other difficulties. In-home caregivers provide meaningful company and assistance with hygiene, walking, household tasks, taking medications, planning healthy meals, and more. As with cardiac care, in-home care practices will vary depending on the client's needs.
A combination of attentive home care and physician cardiac care helps improve quality of life for seniors. In-home assistance can help seniors practice healthy behaviors, avoid accidents such as falls, and feel a sense of care and companionship, all while working to improve their cardiovascular health.
Quality Home Caregivers
It's incredibly important for caregivers to be supportive to the seniors they assist and to encourage that they stay on track with cardiac care instructions. These can include being active for part of the day by going on walks and avoiding a sedentary lifestyle, following good lifestyle habits including eating heart-healthy meals, and taking medications.
Depending on the cardiovascular disease from which a senior is suffering, taking medications at regular intervals can save their life. For example, cardiac care medications, such as beta blockers, reduce the effects of stress hormones on the heart to alleviate symptoms including high blood pressure or abnormal heart rhythms. Beta blockers can even help a person who has survived a heart attack reduce their risks of a second event. Blood thinners, another common class of cardiac care medication, helps prevent blood clots that can cause a heart attack or stroke. It's imperative that seniors take all medications exactly as prescribed. If they have mobility or memory issues that interfere with this, in-home care is a great solution. 
Overall, sensitive and attentive in-home caregivers will work to support their senior clients and improve their quality of life right in the comfort of the senior's own home. Call 24 Hour Home Care today to learn more about how our experienced, thoroughly vetted professionals can help the senior in your life maintain good cardiovascular health.