10 Creative Stay at Home Activities for Kids and Families
During the COVID-19 pandemic, it's important to maintain a proper distance from others. Social distancing measures such as quarantining at home aren't just …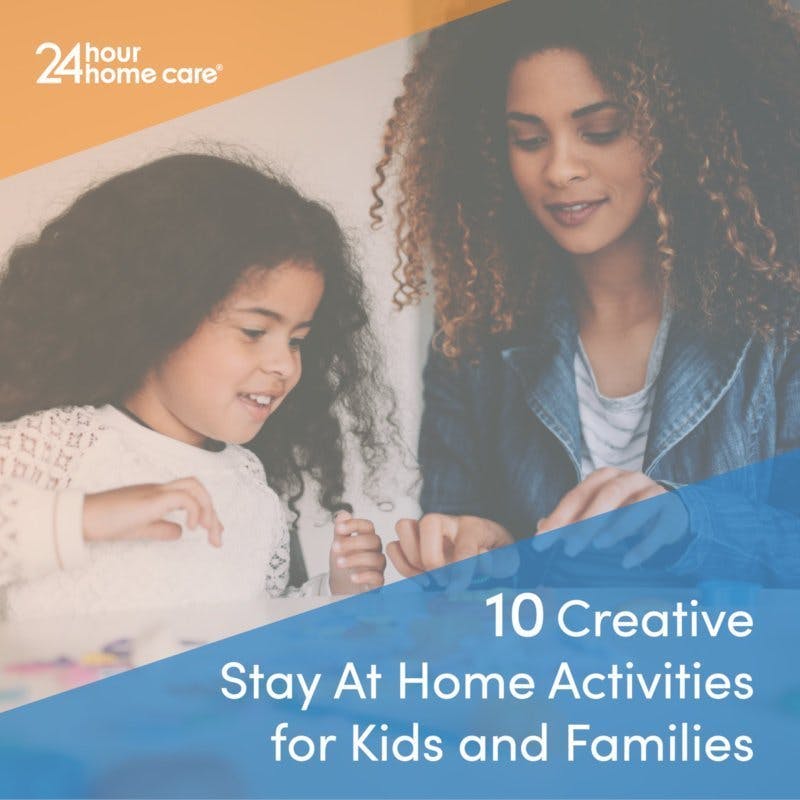 During the COVID-19 pandemic, it's important to maintain a proper distance from others. Social distancing measures such as quarantining at home aren't just ideal for recovering from illness, but staying in can actually reduce your risk of catching this highly contagious virus. Stay at home orders have been lifted in some areas, but it's still recommended that you and your family reduce non-essential public exposure and travel for the foreseeable future.
This means spending plenty more time at home. It may seem tough to continue sheltering in place, but thankfully there are activities that you can enjoy right at home and share with the whole family. Read on to discover fun, educational, and enriching stay-at-home activities that won't just pass the time, but keep you safe and healthy.
The Importance of Stimulation
The human mind and body crave stimulation. Entertainment and exercise are essential to mental health. While quarantining at home, you and your family members may experience stress, anxiety, or even unease with changes in your routine. Add to this limitation on social interactions, and you may start to feel intense boredom at home.
Stimulating activities involve many areas of the brain and can help improve mental health during uncertain times. Enjoying these activities with others can help reduce your risk of anxiety, depression, and boredom. The sense of productivity and accomplishment when you complete a fun activity can also help everyone in the family maintain a positive self-image.
Finally, stimulation through activities just keeps you from getting stir-crazy! There is plenty of temptation to return to former activities out in public. Your children may be eager to get back to a public playground, movie theater, etc.–as germy as these areas may be. But if you find ways to entertain the whole family at home, such as these 10 activities, you'll relieve your temptation to go out in public for stimulation.
1. Gardening
A fun and satisfying outdoor activity, gardening is a famously calming task that children will love. While gardening offers slow results, the work of digging holes, pruning flowers, and even decorating a flower bed with stones and bricks allows the whole family to use their creativity. Let your kids be involved in the decision-making for the best results.
2. Upcycle Toys
Turn your sanitary recyclables into fun toys. Use a cardboard box and string to make a homemade guitar, or even turn old clothing into stuffed toys. Let every member of the family show off their creativity and swap the resulting toys secret-Santa style. It's never a bad time for gifts!
3. Bake
Rare is the child that will turn down a sweet snack. Bake delicious but healthy snacks such as trail mix or fruit tarts. Show kids the benefits of making fresh food right at home. Put on music and get the whole family involved!
4. Make Stickers
Packing tape and some markers are all you need to make custom stickers in the comfort of your home. Trade stickers for help around the house or yard, or even let kids apply their stickers on their electronics and bedroom doors. Family crafts are great for bonding and praising kids for their finished products helps build confidence.
5. Watercolor Paint
Watercolor painting can be difficult. It certainly has a learning curve. However, you have plenty of time at home to roll out thick paper and paints and learn a new creative skill with your family. If you're new to watercolor painting, you may not do well at first, but practice makes progress. Enjoy the process and have fun with it!
6. Redecorate
Rearrange furniture and decor in every room. Even your kids will love the fresh look and feel when their bedrooms are rearranged. This may be a great chance for them to hang up some artwork they made themselves! Plus, you can take this opportunity to convince everyone in the family to get rid of old or unused junk.
7. Make Accessories for Pets
Accessorize your pet's collar or animal-safe clothing with a fun little accessory that matches their personality and coloring. Use a glue gun and pieces of felt to build each accessory. It's a fun task, and your pets will love the extra attention.
8. Try Origami
An ancient Japanese art that's popular to this day worldwide, origami papercrafts are accessible and fun. Start off small with simple shapes like origami jumping frogs, try the classic flapping crane, or even incorporate cut designs to make crafts like paper lanterns.
9. Invent a Board Game
If you stay at home with kids, activities such as games will be in high demand. So make your own board game! This is a great team effort for the whole family. Invent your very own fun and challenging board game. Develop a board, cards, play pieces, a spinner wheel, or other fun features. Not only will you love playing this unique board game together, but you can also share it with guests when it's safe to have company again.
10. Make Wreaths for Every Month
Who says Christmas is the only season for wreaths? The whole family can get together and make wreaths for every month, like floral wreaths for May and summer decor for June. Use foam, a hot glue gun, and decorative pieces like dried leaves and felt to make custom wreaths. Search your backyard for twigs and other decorative objects, too. You can decorate your front door differently every month. Fun and rewarding experiences such as these are engaging during a difficult time and help kids stay occupied and even happy to be at home with the whole family.
If you need help caring for your loved ones, call 24 Hour Home Care. We offer dedicated, attentive, and professional home care services. 24 Hour Home Care supports and provides care for individuals with developmental disabilities, working directly with various Regional Centers across California to provide respite care, specialized supervision, personal assistance and FMS programs. We're working hard to ensure your family members and our providers stay safe during the COVID-19 pandemic.