Torrance Senior In Home Care & Caregiver Services
In-home care allows seniors to continue to age peacefully and safely in the comfort of their own residence.

Our Torrance Office has been leading the way in non-medical in-home care in the Torrance area for the past several years. We pride ourselves in taking a unique approach to in-home care by blending innovation and technology with our exceptional customer service experience, with 24/7 accessibility and Signature Specialty Training's to work with patients that may have Alzheimer's, Dementia and other illnesses or diseases. 24Hr HomeCare has served patients and clients from Torrance Memorial Medical Center, Providence Little Company of Mary (San Pedro & Torrance), Beach Cities Health District.
Our complimentary in-home consultations give you and your loved ones a chance to get to know our company, learn how we can help your loved one age comfortably at home and ask any questions you may have. After your free consultation, our care team will select a trained professional caregiver based on your loved one's needs and prescribed care plan
The Torrance office opened its doors in 2008, and is 24Hr HomeCare's flagship office! Our industry-leading Caregivers and world class senior in home care services have earned our Torrance location state-wide recognition. In 2010, 2011, and 2014, its dedicated team was voted South Bay's Best In-home Care by the Readers of the Daily Breeze, and in 2013, the team was recognized as South Bay's Favorite In-home Care. Most recently, we were awarded LA Business Journal's 2015 Best In-Home Care!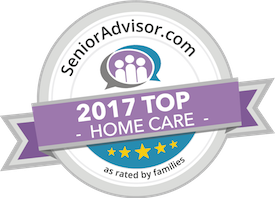 Office

Caregivers

Home Care Services
Office
Our Torrance office provides Caregivers to seniors who live in Torrance, as well as those who live in the surrounding cities including, but not limited to, Whittier, Cerritos, La Mirada, Redondo Beach, Ranchos Palos Verdes, Rolling Hills, Hermosa Beach, Manhattan Beach, El Segundo, San Pedro, Lakewood, Long Beach, and the rest of the South Bay area. Staying true to our name, the Torrance location is available 24 hours a day, 7 days a week. Contact us today to learn more! Want more information? Contact us to hear more about our services.
Address
21311 Hawthorne Blvd., Suite 101
Torrance, CA 90503
Office: (310) 375-5353
Fax: (310) 375-5656
Email: torrance@24hrcares.com
HCO#: 194700056

Caregivers
Our team of highly skilled and trained home health aides will treat your loved one with respect and make him or her feel comfortable at all times. We are a shoulder for you and your loved one to lean on, as well as a source of comfort and safety. When 24Hr HomeCare is trusted with caring for your loved one, you can have the peace of mind knowing that they're safe and sound while their family members are away. Although we receive a large volume of applications, we choose to only hire the top four percent of Caregivers to become 24Hr HomeCare team members. We only select Caregivers with a proven track record that have worked for at least one year in the in home care field. At 24Hr HomeCare, we're dedicated to providing the absolute best service and experience to our clients; therefore, we expect only the best from all of our employees. Since our Torrance office is contracted with the Beach Cities Health District, the largest preventative health agency in the country, you or your loved one can rest assured knowing they will be receiving the senior home care they deserve. When hiring a Caregiver onto the 24Hr HomeCare staff, we perform a social security validation, a physical exam with medical clearance, a tuberculosis screening, a nationwide criminal background check, and a DMV check, in addition to a separate phone screening. We make sure that all Caregivers employed by 24Hr HomeCare are in top notch physical, mental, and emotional shape for Torrance in home care. Once a Caregiver is hired onto our team, we supply CPR training and educate them about various geriatric illnesses and conditions along with different in home care management techniques.
Address
21311 Hawthorne Blvd., Suite 101
Torrance, CA 90503
Office: (310) 375-5353
Fax: (310) 375-5656
Email: torrance@24hrcares.com
HCO#: 194700056

Home Care Services
Unlike the typical Caregiver agency, there is no hourly minimum at 24Hr HomeCare. Whether you need our in-home care for thirty minutes or 24 hours per day, all you must do is pick up the phone and call the Torrance in home care office, and we'll send a qualified caretaker to your home within 3 hours. We can also create scheduled times for our Caregivers to aid as well. Our services range beyond the basic home care provider – our 24Hr HomeCare Caregivers can provide transportation, prepare different meals throughout the day, do laundry, and help with light housekeeping. If your loved one is currently taking medication, we'll make sure they stay on schedule. To do this, we'll keep a log of all medications given for accountability purposes.
Address
21311 Hawthorne Blvd., Suite 101
Torrance, CA 90503
Office: (310) 375-5353
Fax: (310) 375-5656
Email: torrance@24hrcares.com
HCO#: 194700056